A Thanksgiving I'll Never Forget: Mom gives birth in McDonald's bathroom
A woman shocked everyone on Thursday when she went to the restroom at McDonald's in Fulton County, Georgia, and came out with a newborn baby.
Assisted by the staff of the fast food restaurant on Fulton Industrial Boulevard, Alanria Worthy and her fiancé, Deandre Phillips, welcomed their new baby on Thanksgiving in a very unusual setting.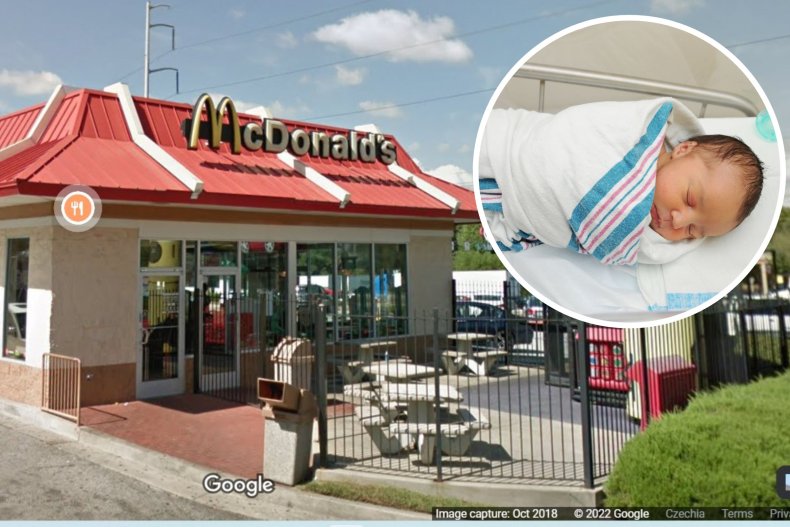 On Facebook, McDonald's employee Kesha Murray wrote it was, "A Thanksgiving I'll never forget," while new dad Phillips also posted on social media: "Wow what a Thanksgiving."
On Facebook, Worthy shared the story of her daughter's birth, writing, "If you try to make it to the hospital, but the toilet at McDonald's was closer."
News Week has contacted Kesha Murray, Deandre Phillips and Alanria Worthy for comment.
Local news station 11Alive reported that new mom Worthy started going into labor in the early hours of Thursday morning, but decided to wait a little longer before going to hospital.
At 7:30 AM, Worthy was having contractions just 90 seconds apart, and the pair hurried to the car to go to the hospital.
But halfway through, Worthy felt like she needed to go to the bathroom, so the couple stopped at the local McDonald's.
As soon as she entered the McDonald's bathroom, Worthy's water broke. Shocked, she started screaming and employees rushed to her aid.
General manager Tunisia Woodward was the first to arrive. She remembered walking into the bathroom and seeing Worthy lying on the toilet screaming and knowing the baby was coming.
News Week has contacted Woodward for comment.
The team gathered, quickly called 911, and told soon-to-be father Phillips to get out of the car quickly to be with his partner.
On Facebook, Phillips wrote: "[I] had the EMS people looked at me like 'he knows what he's doing' lol I didn't know s***spirit was taking control of me…"
Just three pushes and 15 minutes later baby Nandi Ariyah Moremi Phillips was born. McDonald's staff also gave the baby their own special nickname, as Murray wrote on Facebook, "Here she is 'Lil Nugget'."
With the help of the emergency service who told McDonald's employees and the new father how to deliver the baby, Phillips said he was grateful the staff were ready to help.
In a heartwarming post, McDonald's employee Murray's own mother praised her daughter's efforts, sharing a post on Facebook that read, "I'm proud of my daughter for helping deliver your baby girl!!! Simply amazing. "
After the unexpected shift, Woodward was pleased that her actions had helped that day. "We're all moms, so we put our heads together," she told 11Alive. "It's a day I'll never forget. I'm going to tell this story from now on."
Later, on Facebook, Murray shared a photo of the newborn and wrote, "This is the beautiful precious goddess."
Restaurant owner Steve Akinboro rewarded the heroic employees with $250 gift cards in recognition of their actions, 11Alive reported, but Woodward plans to spend her reward on "'Lil Nugget" instead.
Woodward picked up clothes, diapers, rompers and socks as she said how the experience had opened her eyes: "Just helping bring in a life. It was just amazing," she told 11Alive.
Phillips and Worthy were quick to share their thanks with the team and plan to visit the staff who helped deliver their baby girl soon.
News Week reached out to McDonald's for comment.