Amazon needs to address injury rates in its warehouses
Today, on Black Friday, countless families are already eagerly creating their holiday shopping lists. For Amazon's 370,000 warehouse workers, it's not a season of joyful anticipation, but of impending doom.
After all, it's not holiday magic that a product goes from your screen to your mailbox within 24 or 48 hours. It is those 370,000 workers who pay a high price for those fast deliveries in the form of serious injuries and even disabilities that can be directly traced to the relentless pace at which they are forced to work by the world's largest retailer. The number of injuries has reached a crisis level.
Despite Jeff Bezos' 2021 pledge to make Amazon the "safest place on earth to work," the Amazon executive and his executives allowed the company's overall accident rate to rise 20 percent in the same year. Last year, Amazon warehouse workers suffered nearly as many injuries (38,000) as workers in the rest of U.S. warehouses combined, according to the Strategic Organizing Center. analysis from Amazon's own internal injury data collected and released by the US Occupational Safety and Health Administration (OSHA).
These horrible results are no accident. They are a predictable result of the company's business model, which prioritizes speed, production and profit over worker safety. Amazon optimizes its production system to put workers under extreme physical stress — far beyond any reasonable expectation of safety — while constantly threatening to fire them if they don't keep up with the inhumane pace of work.
That's why we testified last week at the House Education and Labor Committee hearing on workplace safety in warehouses. We urged Secretary of Labor Marty Walsh to continue the government's full support for OSHA's interventions to improve conditions in the warehouse industry. We asked members of the committee to alert the leadership of the nation's storage companies to the dangers of the Amazon business model. And we called on them to demand that Amazon fulfill its legal mandate to protect workers — by finally complying with OSHA's outstanding orders to address these widespread dangers.
Amazon knows how to stop these brutal conditions. In 2020, as Amazon's COVID cases turned into a full-blown crisis, the company temporarily eased pressure on work speed by suspending disciplinary action based on production metrics. As a result, the company's injury rate dropped significantly in 2020.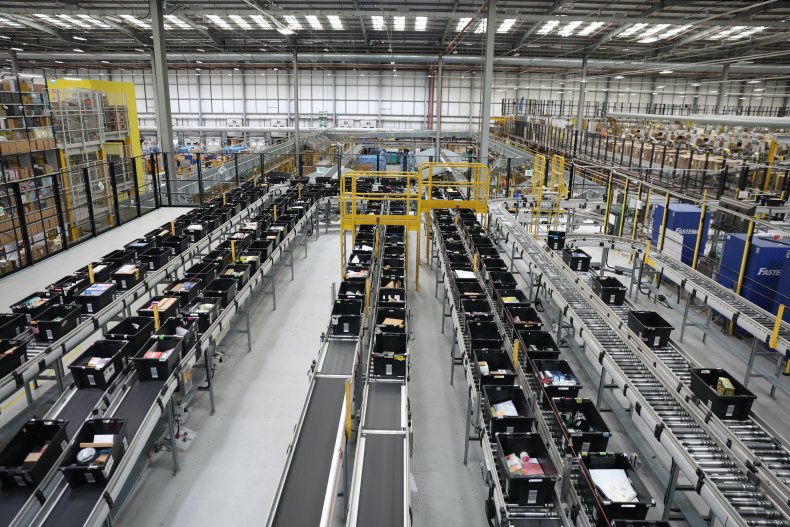 However, as Prime Day approached in October 2020, Amazon re-implemented its work rate requirement, and sure enough, the 2021 injury rate jumped back up. Amazon executives have repeatedly denied the seriousness of this injury crisis and tried to blame everyone, including their own employees. They grossly misrepresented their own injury data to investors, journalists and the public, claiming that these excessively high injury rates were "about average" within the relevant industries.
It's no surprise that the Amazon business model is becoming the norm for the rest of the warehouse industry as well. But Amazon's system must be stopped before it destroys the bodies and livelihoods of even more workers – workers like Bobby Gosvenor of Tulsa, Oklahoma, who hurry to lift bins onto a packed conveyor belt after it broke down during the holiday rush hour. He complained of pain to his supervisor, who told him to "take some ibuprofen and ice and come back the next day." Two weeks later, just after Christmas, Gosvener was diagnosed with a hernia.
In response to stories like Gosvenor's and the abundant evidence of both rampant injuries at Amazon and management's failure to address the problem, OSHA offices across the country are launching investigations. Both the state of Washington and federal OSHA have conducted detailed investigations into this illegal workload – the most extensive national workplace inspections in OSHA's 52-year history.
One of the warehouses currently under investigation by Federal OSHA is the ALB1 warehouse near Albany, New York, which saw the highest injury rate of any primary Amazon warehouse in the country in 2021: 20 serious injuries per 100 employees .
And in Washington state, OSHA inspectors found a "direct link" between Amazon's monitoring and disciplinary practices and workplace injuries, and that the company's refusal to take corrective action, including reducing its "very high pace of work", is an "intentional" violation. of OSHA law.
As the next holiday shopping season begins, Amazon must stop denying the dangers, stop resisting OSHA's interventions, and comply with the orders to remedy the dangers. Until then, warehouse workers will continue to look at the holiday season with a sense of dread, not hope.
Eric Frumin is director of health and safety at the Strategic Organizing Center. Sheheryar Kaoosji is the Executive Director of Warehouse Worker Resource Center.
The opinions expressed in this article are those of the authors.