Cristiano Ronaldo eats something out of pants during World Cup, confuses fans
Cristiano Ronaldo is often known for pulling something out of his hat to help his teammates win a match, but he has baffled fans by pulling something out of his pants and chewing it.
The 37-year-old Portuguese striker helped his country to a 3-2 victory over Ghana in the FIFA World Cup when TV footage showed the footballer reaching into his pants and pulling something in his hand before stuffing it into his mouth. and started chewing.
Cristiano Ronaldo, who is currently without a club after terminating his contract with Manchester United this week by mutual consent, is no stranger to hiding snacks in his pants to chew on during a match, but his actions have certainly caused a stir on social media.
Twitter was flooded with people sharing their thoughts on what CR7 was chewing, with one Twitter user adamantly knowing what it was: "Ronaldo chewing tobacco."
Another thought that FIFA should intervene and investigate what the soccer star was up to. They tweeted: "Ronaldo needs to be investigated. What did he get out of his shorts?"
A third person wanted to know more about the 'trick', asking on Twitter: "This is why I love Ronaldo so much. Can't say how many hours I've spent figuring out how to store a snack in football shorts that aren't pockets .I have to learn this secret so hard.'
The bewilderment continued on social media, with one person tweeting: "I call it the Ronaldo puzzle – 'What does he get out of his shorts to eat?'"
While another simply asked directly: "What did #ronaldo eat out of his shorts? #ghanavsportugal"
As it turns out, there seems to be a simple answer to what the five-time Ballon d'Or winner was up to.
The Portuguese Football Federation told The Athletic that Cristiano Ronaldo pulled gum out of his pants to chew on, and the clip went viral on Friday.
Cristiano Ronaldo scored in the victory over Ghana to become the first person to find the back of the net in five World Cup tournaments. After the match, he said the win was important, as was stopping talking about his own future.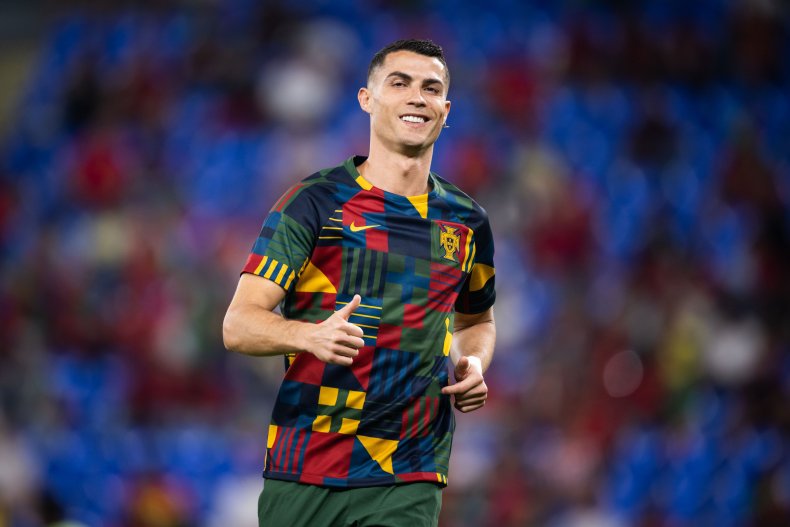 He arrived at the World Cup under a cloud after giving an explosive interview to Piers Morgan in which he targeted the coaching staff and senior executives at Manchester United.
The former Real Madrid and Juventus man said we can only concentrate on playing for Portugal: "It's important that we won.
"It was a week when this chapter ended [leaving Manchester United]. It's closed and now I want to start with the good foot. We started here, we won. I want to help my team and the rest of the team."
He added: "This was a wonderful moment – my fifth World Cup. It is very important to win. We know that in these competitions the first game is crucial. But also the world record, the only player to score in five World Cups makes me very proud. The team has achieved a good result in a tough competition."
Got a tip on a sports story Newsweek should cover? Do you have a question about the World Cup? Let us know at [email protected]