Enraged Russian soldier complains to mother after fleeing Ukrainian offensive
A video clip of a Russian soldier allegedly talking to his mother on the phone about fleeing the Ukrainian advance has gone viral on social media.
The video was shared on Twitter by user Dmitri, who is associated with WarTranslated, an independent project that translates various materials about the war in Ukraine into English.
In the clip, the alleged soldier laments the lack of support and preparedness he and his unit have in their fight against Ukrainian forces.
The video, which was posted Thursday, has received more views so far than 150,000 times.
Dmitri added the caption: "Russian soldier in Kreminna tells his mother on the phone how to flee from Ukrainian tanks, she proposes to pick him up, which of course is impossible."
At one point during the conversation, the mother can be heard sobbing as her son speaks of an expected attack by Ukrainian troops in the next 20 minutes.
News Week has not been able to independently confirm the authenticity of the video.
During the conversation, the Russian soldier said, "I'm on the front line, damn it. [Ukrainians] are in three directions. They are in the next forest. Mortars, tanks, working on us."
When asked what they were going to do, the soldier replies that there is nothing that can be done about it.
He continued: "We ran away from a tank yesterday, damn it, it had thermal vision, damn it, it chopped everything up.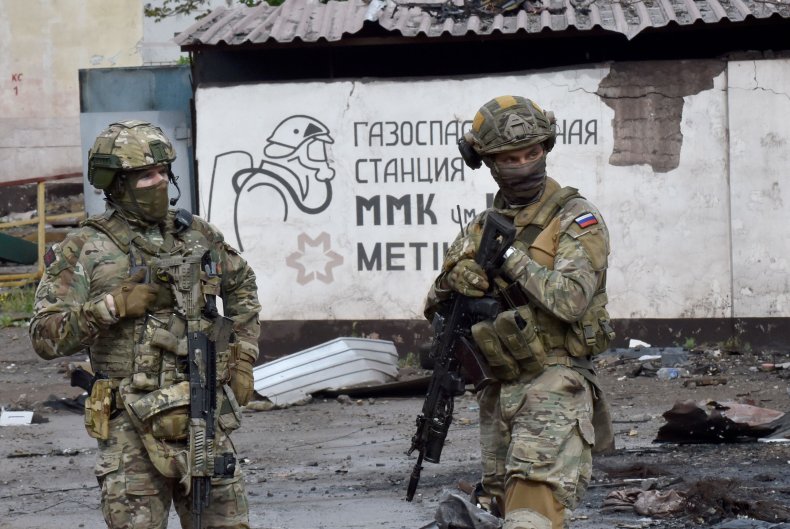 "I don't know [when I'll be back]"They say here that to go on leave, you have to be here for eight months."
The mother replied, "No way, what about the contract?"
The soldier replied, "The contract doesn't matter, they said: either boneless, armless, or 200 [dead].
"The guys said there might be one [Ukrainian] offensive in 20 minutes, they heard it on the radio."
The mother asked to pick up her son, an idea he rejected, wondering how she would do it. She was starting to get audibly upset.
He continued: "I've been running away from the tanks for three days, for God's sake. Anyway, mom.
"I don't want to be here. I'm not a warrior. I wasn't even damn trained to run from the tanks, for God's sake."
The soldier also notes that he is in Kremina in Donetsk Oblast, but his unit has no significant support.
He ended the call by saying he is about to prepare for the suspected imminent attack and will call again when he can.
News Week has contacted the Russian Foreign Ministry for comment.