Kari Lake is suing Maricopa's Republican leaders over Arizona's loss
Kari Lake named several Maricopa County officials on Wednesday in a lawsuit seeking access to 2022 election records.
Several of the individuals named in her lawsuit are Republican leaders in the county.
Lake, a Republican supported by former President Donald Trump, is running for governor in Arizona this election cycle. She has yet to give up the race declared last week for Democrat Katie Hobbs. Outgoing Republican Arizona governor Doug Ducey has already met with Hobbs as she prepares to take office as the state's new governor in January.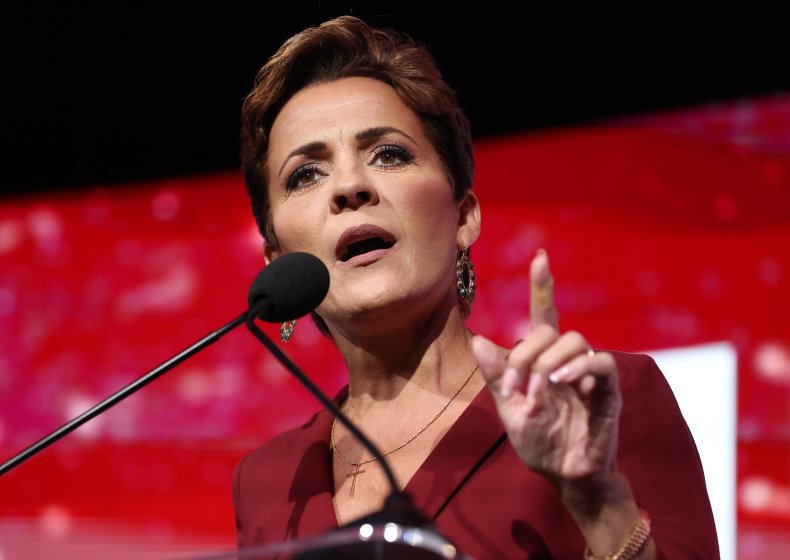 Lake has repeatedly questioned the integrity of this year's Arizona midterm elections. She told supporters earlier this week that she intends to "keep fighting" the results of what she described as "botched" elections. She has claimed that problems with the voting machine and the long wait to vote in person "discriminated against people who chose to vote on Election Day".
On Wednesday, Lake's Kari Lake Political Committee for Arizona filed a lawsuit "to compel the immediate production of public records under the Arizona Public Records Act," court documents showed. She claimed that "many" people in Arizona "may not have been able to vote", citing "cases of misprinted ballots, mixing of counted and uncounted ballots, and long lines discouraging people from voting" as examples.
Lake's lawsuit calls for the release of county election data. Two requests for public records already filed by Lake's team have been "unlawfully denied," the complaint said. Lake's political committee went on to say it "cannot determine that every lawful vote will be counted" without access to records showing how county officials conducted the election.
"We need information from Maricopa County," Lake told Steve Bannon during a Wednesday performance at Bannon's War room, in which Lake discussed the lawsuit. "They've had the worst election ever, in history, and we want some information."
Lake's lawsuit names Maricopa County and eight county officials as defendants in the complaint. The first person named in the lawsuit is Stephen Rijker, who is the Maricopa County Recorder and a member of the Republican Party. Richer formed a political action committee called the Pro-Democracy Republicans PAC last fall, which said on its website it is time for Republicans to "accept and recognize" that Trump lost the 2020 presidential election. The PAC says it was launched "in support of pro-Democratic Republicans in Arizona."
Lake criticized Richer for his PAC in a Wednesday tweet.
"The man responsible for Maricopa Co's disastrous election is Stephen Richer," Lake's tweet read. "He ran an anti-Kari Lake PAC."
Lake linked her tweet to an article by Arizona Sun Times, which reported that Richer's PAC received money from donors backing Democratic candidates. She also called on the Arizona Attorney General to investigate Richer and his PAC.
In addition to Richer, Lake's lawsuit named as co-defendants Rey Valenzuela, Maricopa County's director of elections for election services and early voting, and Scott Jarrett, the county's director of elections for election day and emergency voting. Also listed as defendants are the five individuals who were elected to serve on the Maricopa County Board of Supervisors: Chairman Bill Gates, Vice Chairman Clint Hickman, and Supervisors Jack Sellers, Thomas Galvin and Steve Gallardo. Gates, Hickman, Sellers and Galvin are all Republicans.
News Week contacted city officials for comment.