Lukashenko details why Belarusian troops won't join Putin's war
Belarusian President Alexander Lukashenko has dismissed speculation that his country's armed forces could join Russian forces in fighting Ukraine.
Since winning elections in 2020 that have been internationally contested and followed by brutal crackdowns on protesters and the opposition, Lukashenko has increasingly relied on Russian President Vladimir Putin to stay in power.
While Belarus has been used as a staging post for Russian attacks on Ukraine and Moscow has deployed troops and weapons there, it has not played a more direct role in the war, although Lukashenko spoke of a joint Belarusian-Russian force last month.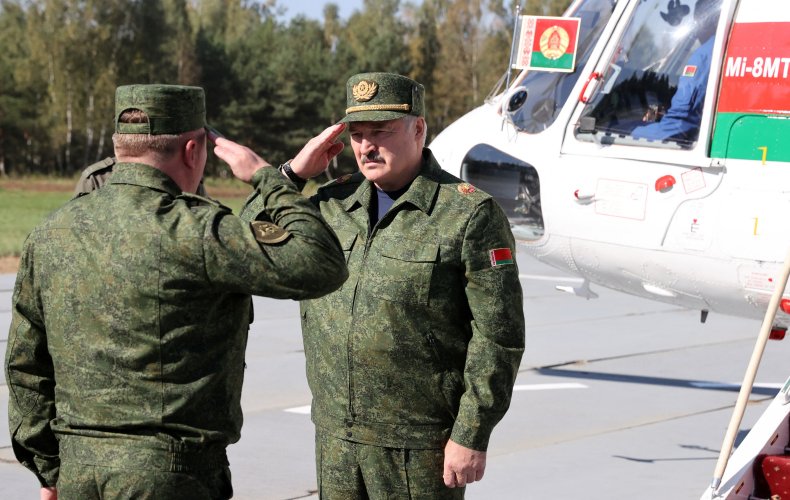 However, on the sidelines of a summit of the Russian-dominated Collective Security Treaty Organization (CSTO), Lukashenko appeared to quash rumors of closer involvement in his ally's invasion.
Lukashenko described the prospect of Belarusian troops entering Ukraine as "total nonsense," Lukashenko said, "if we use armed forces personnel to get involved in this conflict, we will not add anything to it," as he referred to his 40,000 strong force.
"On the contrary, we will make things worse. It is not Belarus' role in this conflict," he told reporters in the Armenian capital Yerevan, Belarus' state news agency Belta reported.
He said Belarus contributes to Russia's war effort in other ways, but said that "we don't get involved, we don't kill anyone, we don't send personnel there because we don't need to." He added that negotiations were necessary to end the war.
Ukrainian intelligence has said Russia was planning false flag attacks on infrastructure in Belarus to try to draw Minsk into the war. However, analysts doubt this would happen because of the risk it could pose to the survival of Lukashenko's regime, as the country was overwhelmingly opposed to the war.
Earlier this month, Franak Viačorka, chief political adviser to exiled Belarusian opposition leader Sviatlana Tsikhanouskaya, told News week that he did not believe that Putin was interested in sending Belarusian troops to Ukraine.
However, he described as a "very dangerous development" the assessment by British defense officials that Russia was moving MiG-31K jets and AS-24 Killjoy ballistic missiles to Machulishchy airfield in the Minsk region.
He said there were indications that Kinzhal hypersonic missiles are on Belarusian territory and he feared that "we will see attacks from Belarusian airspace against Ukrainian infrastructure very soon".
"We also see their attempts to deploy more Iskanders [missiles] which will mean more shelling from Belarusian territory," said Viacorka, who warned Iran's supply of drones and missiles to Russia "will be dangerous for Ukraine because it does not have enough anti-aircraft weapons."
He said at least 4,500 Russian troops had arrived in Belarus and used the barracks, although they were kept separate from Belarusian soldiers because there was a lack of trust between the troops.
"According to our information, the Belarusian army has a rather negative attitude towards Russia," he said News week. "They are using the infrastructure and military facilities, but there is no willingness to take Russians into the territory of Belarus."