Russia punishes promoting LGBTQ rights with a fine of up to $82,000, imprisonment
Russia is once again cracking down on its LGBTQ community, with lawmakers taking steps to further restrict activities perceived as promoting gay rights.
On Thursday, lawmakers in Russia's parliament approved a bill that broadens restrictions on "LGBT propaganda" already in place among minors. It also bans the "demonstration" of LGBTQ behavior, prohibits Russians from publicly suggesting that such lifestyles are "normal" and bans all advertisements, media, books and films perceived as promoting such "propaganda".
Violations of the ban would be punishable by fines ranging from 100,000 to 2 million rubles ($1,660 to $33,000). Non-residents may be subject to expulsion from Russia and in some cases a 15-day pre-expulsion detention may result.
The bill is an extension of the "gay propaganda" law passed by the Kremlin nearly a decade ago, which bans the promotion of LGBTQ lifestyles for children. The new legislation will go to the upper house of parliament before being sent to President Vladimir Putin's office, where he will sign the bill.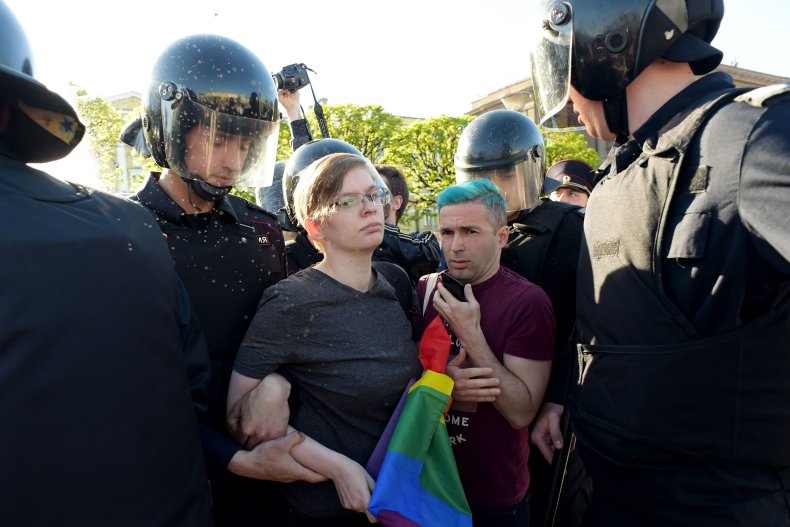 Last month, Alexander Khinstein, one of the bill's architects, called LGBTQ lifestyles "an element of hybrid warfare and in this hybrid warfare we must protect our values, our society and our children."
Anti-LGBTQ ideas are widely accepted by Russian officials, who have made same-sex marriage illegal and often speak of a desire to promote "traditional values" in Russia.
In July, the commander of Chechen forces in Ukraine hailed Russia's invasion as a "holy war" against the LGBTQ community.
"We are not under the flag of LGBT and as long as [Russian President Vladimir Putin is] alive, we will not be under those flags," Apti Alaudinov said on state television.
Although homosexuality was decriminalized in Russia almost 20 years ago, the European watchdog ILGA-Europe ranks 46th out of 49 European countries for LGBTQ inclusion.
In 2017, the European Court of Human Rights ruled that the original version of the "gay propaganda" law is discriminatory, serves "no legitimate public interest" and violates the European Convention on Human Rights.
Political scientist Ekaterina Schulmann told Reuters the bill is also a "massive victory" for Russia's communications regulator, which she says has already "assumed the powers of a political police". She said the new bill will further expand Roskomnadzor's authority and his ability to monitor information in search of LGBTQ sources.
"People – authors, publishers, just people – will think twice before even mentioning anything related to [LGBTQ issues]Schulman said.