Russian missile plunges child's heart surgery into darkness in viral video
A viral video shared on Twitter by a Ukrainian journalist shows a team of surgeons continuing heart surgery on a child in Kiev after a Russian missile plunged the operating room into darkness.
Russian forces are increasingly targeting Ukraine's power grid with missile strikes, as Moscow politicians previously told Russian state media for supporting the shutdown of Ukraine's energy supply, resulting in the starvation and freezing of Ukrainians. The missiles have been shown to explode near power facilities and damage infrastructure. On Wednesday, Kiev was the victim of an attack that left six dead, 30 injured and destroyed critical infrastructure. The attacks damaged Kiev's power supply and left many residents and organizations without power.
The attack caused power outages at a hospital in Kiev as a child underwent heart surgery. A video shows a team of surgeons continuing the operation with limited light. Aside from the glow of the surgeons' headlights, darkness covers the operating room. The bright skylight typically seen in operating rooms has no power.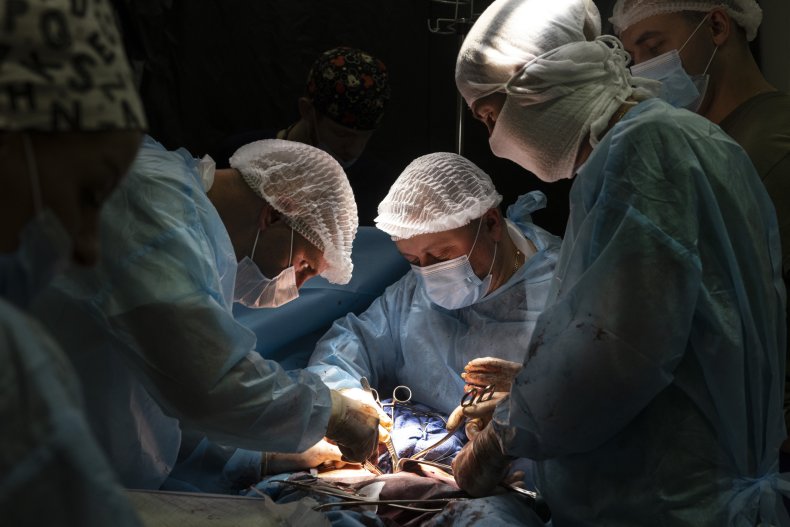 "Heart surgery in Kyiv. A child undergoes surgery and a Russian missile strike cuts power," tweeted independent Kyiv journalist Illia Ponomarenko. "Surgeons continue with their batteries and power generators."
The video is almost two minutes long and has been viewed almost 350,000 times. It has been retweeted almost 20,000 times.
The doctors apparently speak Russian in the video, and a Twitter user responded to Ponomarenko's tweet with a version of the video including English subtitles.
"That's how we perform heart surgery today," the video shooter said as he filmed the surgeons in the operating room, adding that the surgery includes a cardiopulmonary bypass, which the team hoped would be powered by a generator. The child is operated on to replace two heart valves.
During the video, the filmer asks another doctor if everything is stable. When the doctor confirms, the video shooter urges the staff to "try and get ready earlier".
"No one knows what happened, but the operating room is completely blacked out," said the person who took the video.
"So, Russians, rejoice," he sarcastically added at the end of the video. "Today it's a child on the operating table. And during the operation the power went out completely. Well done. Very humane people."
Hundreds of Twitter users reacted to the video, many of whom praised the surgeons as heroes.
Following the attacks, the Kyiv Independent tweeted that electricity for Kiev residents would be reduced to two to three hours a day until power was fully restored.
"[DTEK Executive Director Dmytro] Saharuk said electricity has been restored to about 30% of the city's residents," according to The Kyiv Independent tweeted Thursday night.