Video of Vladimir Putin dropping pen during meeting, 1 million views
A video of Russian President Vladimir Putin dropping his pen during a meeting at the Collective Security Treaty Organization (CSTO) summit in Yerevan, Armenia, has gone viral on Twitter.
The 10 seconds clampshared by Anton Gerashchenko, the adviser to the interior minister of Ukraine, on Thursday, it had been viewed more than 1.2 million times at the time of writing.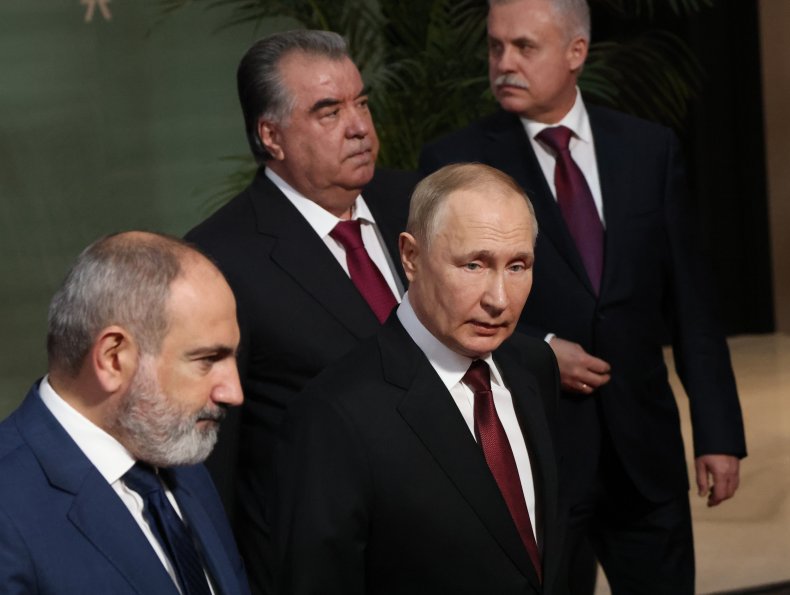 It seems to mark the moment when Armenian Prime Minister Nikol Pashinyan announced at the CSTO summit on Wednesday that he would not sign a draft joint statement of the Russian-dominated alliance of former Soviet countries.
The six members of CSTO are: Armenia, Belarus, Kazakhstan, Kyrgyzstan, Tajikistan and Russia.
"I'm closing the meeting, thank you very much. Thank you very much," Pashinyan said, before starting to get up from his chair.
Putin then dropped his pen on the table in front of him, as an apparently shocked Belarusian President Alexander Lukashenko looked on.
"Nikol Pashinyan refused to sign a statement following the summit of the Collective Security Treaty Organization (CSTO). It basically means that the CSTO has completely collapsed. Putin dropped his pen, Lukashenko is shocked," Gerashchenko tweeted.
Pashinyan said he did not sign the draft joint statement because it did not include a statement on neighboring Azerbaijan, which he accused of "aggression" against his country's territorial integrity.
Azerbaijan and Armenia, both former members of the Soviet Union, began fighting on their common border in September. Both nations blame each other for the clashes and ceasefire violations. The conflict is the worst the two rival ex-Soviet republics in the Caucasus have faced since 2020, when thousands were killed.
Earlier this year, Armenia failed to invoke the collective defense provision of the CSTO.
"These are very important issues. We need to consult on issues that will ensure long-term peace in the region," he told CSTO member state leaders.
"To this day, we have failed to reach a decision on a CSTO response to Azerbaijan's aggression against Armenia," Pashinyan said. "These facts seriously damage the image of the CSTO, both in our country and abroad."
Pashinyan and Putin met on the sidelines of the CSTO summit after the Armenian prime minister refused to put his name on the document, the Kremlin said.
Another clip from the CSTO summit that circulated on Twitter appeared to show Pashinyan distancing himself from Putin in a group photo.
News Week has contacted the Russian Foreign Ministry for comment.
Got a tip on a world news story Newsweek should cover? Do you have a question about Armenia? Let us know at [email protected]